Bobby Orr
Date of Birth: 3/20/1948
Rookie Card Year: 1966-67
Investment Rating: 8.5
Overview
Bobby Orr cards and autographed memorabilia are some of the most coveted collectibles in hockey. When you look at his career accomplishments, it's easy to see why.
Orr was the winner of eight consecutive Norris Trophies as the NHL's top defenseman. He also won three Hart Trophies as league MVP, two Conn Smythe Trophies for being the top player in the playoffs the Calder Trophy for Rookie of the Year. Orr also earned two Art Ross Trophies for topping the league in points. Under Orr's leadership, the Bruins won two Stanley Cups.
While there are plenty of autographed items for collectors to pursue, values for his signed pieces remains strong. Although Orr has been a willing in-person signer, he hasn't exploited his popularity by flooding the market with his signature. He does sign at the occasional autograph show, particularly larger ones.
Bobby Orr's official rookie card was released as part of 1966-67 Topps Hockey. High-grade examples often sell for four figures. Orr also has a team-issued, minor league 1964-65 Oshawa Generals card.
Bobby Orr Rookie Card Checklist
The simplistic design gives the viewer the impression they are watching a hockey game on a wood panel television as a large head shot of Orr in the middle, stares forward, possibly conducting an interview. The back of the card has both English and French text, in addition to a blank stat line indicative of his rookie status.
When dealing with a card this old, condition can cause great fluctuations in value. Many will show basic to moderate wear and those that are still in good condition will sell for huge premiums. Unless you are very knowledgeable about the card or have an authentic one to compare it against, be weary of purchasing a card that is not graded. This card has dealt with counterfeit and reprint issues and because the design is so plain, it can be very difficult to determine the legitimacy of the card with an untrained eye. A quick search of the web will reveal reprints for as little as few dollars per card and they look remarkably similar to the authentic cards.
In spite of all this, the card is a great addition to any collection and the one rookie of a player considered to be among the top players in NHL history.
As a side note, Topps released a US-only, test set of the 1966-67 edition that contained 66 cards with some reports indicating that print runs were as low as 100. Although not a true rookie, this rare card is nearly identical to Orr's rookie except the coloring is much lighter and the back contains writing only in English. The card also has an unintended white stripe along the front right side.
| | | |
| --- | --- | --- |
| | Making purchases through affiliate links can earn the site a commission | |
Autograph Guide
Bobby Orr Autographed Memorabilia Buying Guide
Below you will find an example of what Bobby Orr's authentic signature looks like. This can be used as a first point of reference for determining the legitimacy of autograph memorabilia, but is not a substitute for having your items authenticated by a well-respected professional autograph authentication company. Some of the trusted sources within the sports memorabilia market include the following companies: PSA, JSA, and Mounted Memories. Bobby Orr also has his own authentication when purchased from his website.

Bobby Orr Cut Signature Exemplar:
Bobby Orr Key Signature Attributes: An authentic Bobby Orr signature autograph will exhibit several distinguishing characteristics. Regardless of  the type of item or when it was signed, look for the following signature features:
The signature is written on an even horizontal plane.
Written in cursive, each letter is legible.
The signature leans to the left.
The capital letter "B" is slightly open at the bottom, the pen stays on the paper as it flows into the other letters.
The "o" is closed forming a proper circle.
The "b"'s are discernible but with very shallow curves.
The "y" has a shallow "u" shape before beginning a long tail that resembles a very large backward "C."
The capital letter "O" is similar in size to the "B" of his first name.
It is written i a manner so that the pen stays on the paper by crossing back through the oval shape and into the identical "r"s.
He often inscribes his jersey number "#4."
Bobby Orr Signed Puck Pricing:
Active Listings for Bobby Orr Signed Pucks
Bobby Orr Signed Stick Pricing:
Active Listings for Bobby Orr Signed Sticks
Bobby Orr Signed Jersey Pricing:
Active Listings for Bobby Orr Signed Jerseys
Bobby Orr Signed Photograph Pricing:
Active Listings for Bobby Orr Signed Photographs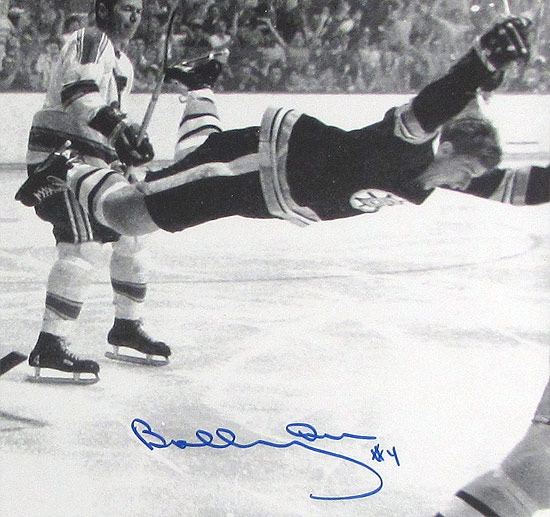 | | | |
| --- | --- | --- |
| | Making purchases through affiliate links can earn the site a commission | |
More Info
For general information and player statistics visit: