1966 Philadelphia Football Cards
Product Details
For the third straight year, the Philadelphia Gum Company issued a 198-card set featuring players from the NFL, while Topps featured the AFL players in its own set. Although all four Philadelphia sets seem to share a general design, 1966 was the only year the player info can be found at the top of the card.
Like in all Philadelphia sets, a large photo shows the player in a posed helmetless shot. A solid-colored box above the player contains his name, position and team. The NFL logo is placed inside the box in the upper left corner. The border is white, but unlike previous years it doesn't also separate the player photo from the solid block. Backs feature a green color and two white boxes. The upper left corner gives the player's name, team, position and vital stats. The white box on the left has a biography about the player, while the one on the right features a picture of another player with a note about which card features the answer to who he is. Below that player's picture is the answer from another card and a helmet-shaped icon that has a card number inside.
The set is numbered according to team, with players arranged in alphabetical order by their last name. There are 13 cards for every team, with 11 players, a team photo and a play card. Unlike the previous year's sets, there is an uncluttered photo of the play in progress. A card with referee signals is included in the set as well. There are also two checklist cards, which make up the last two cards in the set.
Two cards feature a pair of players, and both have quarterbacks in action. One has Earl Morrall and his center Bob Scholtz, while the other shows Roman Gabriel handing off to Dick Bass.
The first cards of the Atlanta Falcons appear in this set. As an expansion team, they have a logo card instead of a team card because there wasn't a 1965 team to take a photo of. Their play card is replaced by one that features a roster. Key rookies include Dick Butkus, Gayle Sayers, Bob Hayes, Chuck Howley, Gene Hickerson and Bob Brown.
Key 1966 Philadelphia Football Cards:
Set Checklist
1966 Philadelphia Football Set Checklist
Base Set Checklist
198 cards
1 Falcons Logo
2 Larry Benz - Atlanta Falcons
3 Dennis Claridge - Atlanta Falcons
4 Perry Lee Dunn  - Atlanta Falcons RC
5 Dan Grimm  - Atlanta Falcons RC
6 Alex Hawkins - Atlanta Falcons
7 Ralph Heck - Atlanta Falcons
8 Frank Lasky - Atlanta Falcons
9 Guy Reese - Atlanta Falcons
10 Bob Richards - Atlanta Falcons
11 Ron Smith  - Atlanta Falcons RC
12 Ernie Wheelwright - Atlanta Falcons
13 Atlanta Falcons Team
14 Baltimore Colts Team
15 Raymond Berry - Baltimore Colts
16 Bob Boyd - Baltimore Colts
17 Jerry Logan - Baltimore Colts
18 John Mackey - Baltimore Colts
19 Tom Matte - Baltimore Colts
20 Lou Michaels - Baltimore Colts
21 Lenny Moore - Baltimore Colts
22 Jimmy Orr - Baltimore Colts
23 Jim Parker - Baltimore Colts
24 Johnny Unitas - Baltimore Colts
25 Bob Vogel - Baltimore Colts
26 Colts Play: Lenny Moore
27 Chicago Bears Team
28 Doug Atkins - Chicago Bears
29 Rudy Bukich - Chicago Bears
30 Ron Bull - Chicago Bears
31 Dick Butkus  - Chicago Bears RC
32 Mike Ditka - Chicago Bears
33 Joe Fortunato - Chicago Bears
34 Bobby Joe Green - Chicago Bears
35 Roger LeCle - Chicago Bears
36 Johnny Morris - Chicago Bears
37 Mike Pyle - Chicago Bears
38 Gale Sayers  - Chicago Bears RC
39 Bears Play: Gale Sayers
40 Cleveland Browns Team
41 Jim Brown - Cleveland Browns
42 Gary Collins - Cleveland Browns
43 Ross Fichtner - Cleveland Browns
44 Ernie Green - Cleveland Browns
45 Gene Hickerson  - Cleveland Browns RC
46 Jim Houston - Cleveland Browns
47 John Morrow - Cleveland Browns
48 Walter Roberts - Cleveland Browns
49 Frank Ryan - Cleveland Browns
50 Dick Schafrath - Cleveland Browns
51 Paul Wiggin  - Cleveland Browns
52 Browns Play: Ernie Green
53 Dallas Cowboys Team
54 George Andrie  - Dallas Cowboys RC
55 Frank Clarke - Dallas Cowboys
56 Mike Connelly - Dallas Cowboys
57 Cornell Green - Dallas Cowboys
58 Bob Hayes  - Dallas Cowboys RC
59 Chuck Howley  - Dallas Cowboys RC
60 Bob Lilly - Dallas Cowboys
61 Don Meredith - Dallas Cowboys
62 Don Perkins - Dallas Cowboys
63 Mel Renfro - Dallas Cowboys
64 Danny Villanueva - Dallas Cowboys
65 Cowboys Play: Danny Villanueva
66 Detroit Lions Team
67 Roger Brown - Detroit Lions
68 John Gordy - Detroit Lions
69 Alex Karras - Detroit Lions
70 Dick LeBeau - Detroit Lions
71 Amos Marsh - Detroit Lions
72 Milt Plum - Detroit Lions
73 Bobby Smith - Detroit Lions
74 Wayne Rasmussen - Detroit Lions
75 Pat Studstill - Detroit Lions
76 Wayne Walker - Detroit Lions
77 Tom Watkins - Detroit Lions
78 Lions Play: George Izo
79 Green Bay Packers Team
80 Herb Adderley - Green Bay Packers
81 Lee Roy Caffey  - Green Bay Packers RC
82 Don Chandler - Green Bay Packers
83 Willie Davis - Green Bay Packers
84 Boyd Dowler - Green Bay Packers
85 Forrest Gregg - Green Bay Packers
86 Tom Moore - Green Bay Packers
87 Ray Nitschke - Green Bay Packers
88 Bart Starr - Green Bay Packers
89 Jim Taylor - Green Bay Packers
90 Willie Wood - Green Bay Packers
91 Don Chandler  - Green Bay Packers
92 Los Angeles Rams Team
93 Willie Brown - Los Angeles Rams
94 Roman Gabriel / Dick Bass - Los Angeles Rams
95 Bruce Gossett  - Los Angeles Rams
96 Deacon Jones - Los Angeles Rams
97 Tommy McDonald - Los Angeles Rams
98 Marlin McKeever - Los Angeles Rams
99 Aaron Martin - Los Angeles Rams

100 Ed Meador - Los Angeles Rams
101 Bill Munson - Los Angeles Rams
102 Merlin Olsen - Los Angeles Rams
103 James Stiger - Los Angeles Rams
104 Rams Play: Willie Brown
105 Minnesota Vikings Team - Minnesota Vikings
106 Grady Alderman - Minnesota Vikings
107 Bill Brown - Minnesota Vikings
108 Fred Cox - Minnesota Vikings
109 Paul Flatley - Minnesota Vikings
110 Rip Hawkins - Minnesota Vikings
111 Tommy Mason - Minnesota Vikings
112 Ed Sharockman - Minnesota Vikings
113 Gordon Smith  - Minnesota Vikings RC
114 Fran Tarkenton - Minnesota Vikings
115 Mick Tingelhoff - Minnesota Vikings
116 Bobby Walden  - Minnesota Vikings RC
117 Vikings Play: Bill Brown
118 New York Giants Team
119 Roosevelt Brown - New York Giants
120 Henry Carr  - New York Giants RC
121 Clarence Childs - New York Giants
122 Tucker Frederickson  - New York Giants RC
123 Jerry Hillebrand - New York Giants
124 Greg Larson - New York Giants
125 Spider Lockhart  - New York Giants RC
126 Dick Lynch - New York Giants
127 Earl Morrall / Bob Scholtz - New York Giants
128 Joe Morrison - New York Giants
129 Steve Thurlow - New York Giants
130 Giants Play: Chuck Meein
131 Philadelphia Eagles Team
132 Sam Baker - Philadelphia Eagles
133 Maxie Baughan - Philadelphia Eagles
134 Bob Brown  - Philadelphia Eagles RC
135 Timmy Brown - Philadelphia Eagles
136 Irv Cross - Philadelphia Eagles
137 Earl Gros - Philadelphia Eagles
138 Ray Poage - Philadelphia Eagles
139 Nate Ramsey - Philadelphia Eagles
140 Pete Retzlaff - Philadelphia Eagles
141 Jim Ringo - Philadelphia Eagles
142 Norman Snead - Philadelphia Eagles
143 Eagles Play: Earl Gros
144 Pittsburgh Steelers Team
145 Gary Ballman - Pittsburgh Steelers
146 Jim Bradshaw - Pittsburgh Steelers
147 Jim Butler - Pittsburgh Steelers
148 Mike Clark - Pittsburgh Steelers
149 Dick Hoak  - Pittsburgh Steelers RC
150 Roy Jefferson  - Pittsburgh Steelers RC
151 Frank Lambert - Pittsburgh Steelers
152 Mike Lind - Pittsburgh Steelers
153 Bill Nelsen  - Pittsburgh Steelers RC
154 Clarence Peaks - Pittsburgh Steelers
155 Clendon Thomas - Pittsburgh Steelers
156 Steelers Play: Gary Ballman
157 St. Louis Cardinals Team
158 Jim Bakken - St. Louis Cardinals
159 Bobby Joe Conrad - St. Louis Cardinals
160 Willis Crenshaw  - St. Louis Cardinals RC
161 Bob DeMao - St. Louis Cardinals
162 Pat Fischer - St. Louis Cardinals
163 Charley Johnson - St. Louis Cardinals
164 Dale Meinert - St. Louis Cardinals
165 Sonny Randle - St. Louis Cardinals
166 Sam Silas  - St. Louis Cardinals RC
167 Bill Triplett - St. Louis Cardinals
168 Larry Wilson - St. Louis Cardinals
169 Cardinals Play: Bill Triplett
170 San Francisco 49ers Team
171 Kermit Alexander - San Francisco 49ers
172 Bruce Bosley - San Francisco 49ers
173 John Brodie - San Francisco 49ers
174 Bernie Casey - San Francisco 49ers
175 John David Crow - San Francisco 49ers
176 Tommy Davis - San Francisco 49ers
177 Jim Johnson - San Francisco 49ers
178 Gary Lewis  - San Francisco 49ers RC
179 Dave Parks - San Francisco 49ers
180 Walter Rock  - San Francisco 49ers RC
181 Ken Willard  - San Francisco 49ers RC
182 49ers Play: Tommy Davis
183 Washington Redskins Team
184 Rickie Harris  - Washington Redskins RC
185 Sonny Jurgensen - Washington Redskins
186 Paul Krause - Washington Redskins
187 Bobby MiTeamhell - Washington Redskins
188 Vince Promuto - Washington Redskins
189 Pat Richter  - Washington Redskins RC
190 Joe Rutgens - Washington Redskins
191 Johnny Sample - Washington Redskins
192 Lonnie Sanders - Washington Redskins
193 Jim Steffen - Washington Redskins
194 Charley Taylor - Washington Redskins
195 Redskins Play: Dan Lewis
196 Referee Signals
197 Checklist #1-99
198 Checklist #100-198  
Hot Auctions
Top 25 Singles
Here are the real time rankings of the 25 Most Popular Singles currently being sold on eBay: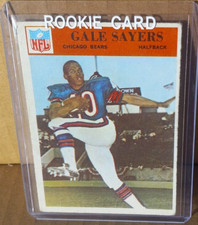 31 watchers
Bids: 11
Current Bid/Price (USD): $102.50
Time Left:
2022/12/13 02:45:01
Bid on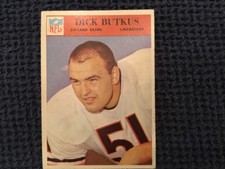 17 watchers
Bids: 11
Current Bid/Price (USD): $124.51
Time Left:
2022/12/12 02:53:51
Bid on